Fall Concert!
We will be having a Joint Fall Concert with Pitch, Please on Friday, December 6th, 2019 at 8:00 PM! Come out to Haines Hall A18 to hear us! For more information, please visit our Facebook event. Hope to see you all there!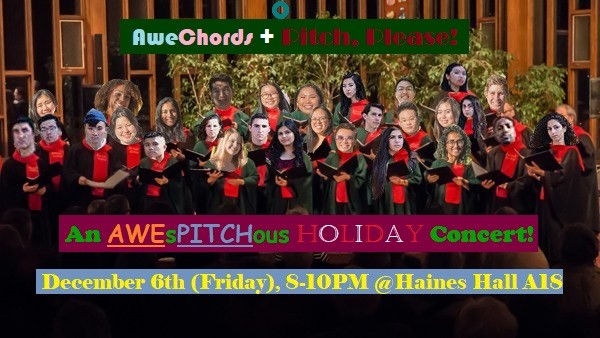 Hey there!
As a performance-based co-ed group at UCLA that strives to share our passion for music with the greater Los Angeles community, we were founded in 2006 as a musical component in UCLA's annual Vietnamese Culture Night (VCN). In 2010, we began to diversify our sound and regrouped to form AweChords A Cappella, as we expanded in both music genres and showcase performances, in addition to perform continually at VCN every year for an audience of over 2,000 people. We are devoted in spreading our joy for music to the people in the UCLA campus as well as the surrounding local community.
Our repertoire ranges from pop to rock to show tunes, and we are constantly working on new pieces to share with our audiences. Our arrangements are all done originally by our very own aspiring members, who hope to share the love and passion for music with others.
Above all, AweChords is a home away from home. We aim to create life-long bonds that will last years after we have finished our last annual performance, as the group thrives and evolves in ways beyond just making music.
Aweditions
Be sure to like our Facebook page to find out when our next aweditions will be held!
Newest Updates
Check out our live performance of a mashup of Hozier's "Take Me to Church" and Taylor Swift's "Don't Blame Me," arranged by alumni Hanna Deloe.